Welcome to the website of Graph Survey Partnership please feel free to browse the pages which we hope you will find both interesting and informative. The company was formed by the four founding directors who had all run their own successful individual practices. The amalgamation of skills took place to fill the growing need to undertake larger and more complex contracts without losing the personal approach. The company still believes that - 'No contract is too small to consider or too large to handle!' Enquiries are always welcome from existing and new clients. Please visit the contact page where you will find all contact details.
Graph Survey Partnership is a highly specialist surveying company which provides services to clients of all sizes. This may range from a survey on a small parcel of land to a major motorway construction project for a blue chip company. The company has representation through the UK and can quickly and competently respond to the requirements of clients in both the domestic UK and also the International arenas.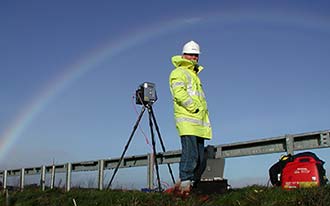 This is a compact and efficient concern which is an advantage for clients due to the hands on attention and excellent level of customer service. However, the personal service provided does not prevent the undertaking of a large project - indeed the founding practitioners forged their relationship during their involvement in the surveying of the M6 Toll Motorway. This massive project is a testament to the ability of the group to handle all types of contract.
Please visit services page to find out more about the areas of expertise that form the cornerstones of
Graph Survey Partnership
. Staff are always delighted to provide free and no obligation initial quotations and expert and friendly advice is always available - please visit the
contact page
for full contact details - make
Graph Survey Partnership
your first call!